MAGNET on Mobile and Free XLM for MAG users!
January 5, 2019
January 5, 2019
Happy New Year 2019!
As some of you have noticed we have quietly released Litemint on the Google Play Store just after the Christmas Holiday.
While we are crunching the stats numbers, we wanted to talk about the new features this release brings to MAG users.
In its core, Litemint is a full-featured Stellar Wallet so any crypto user can use it to send, receive and hold any kind of assets on the Stellar network such as XLM, BTC, USD – and MAG!
Yes, MAG is now available on the Stellar DEX – just head over to StellarPort.io to trade the MAG/XLM currency pair!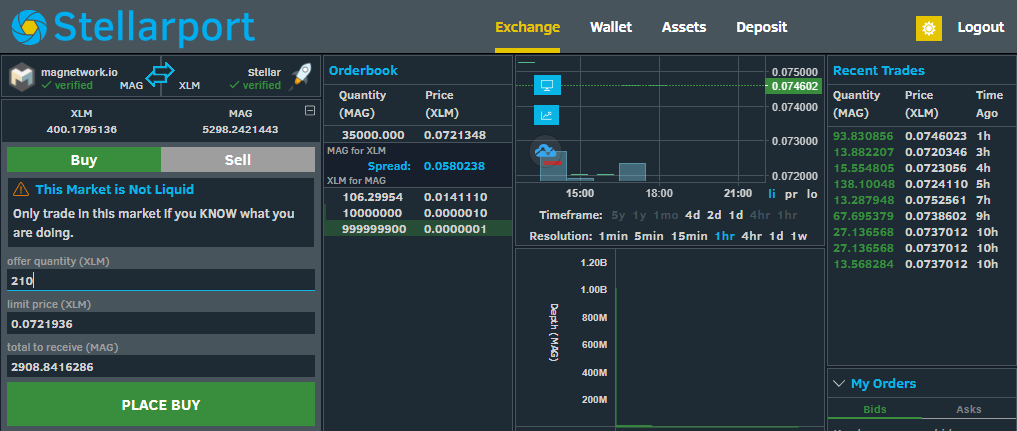 But wait there is more.
For MAG users, Litemint provides more than the standard Stellar wallets as we also bridge seamlessly with our native MAG network. This means that you can deposit and withdraw from any MAG wallet or MAG exchange (Cryptopia, CE…) directly to/from the Stellar network that is (check this real time video).
With Litemint you can also make direct mobile payments to MAG merchants as illustrated in the following video.
This month, we are working tirelessly as we are opening the marketplace allowing merchants to list and sell their digital goods and receive payments (in any currency provided there is liquidity) directly in their wallets.
We believe that leveraging the wide Stellar network can provide a lot of exposure to our merchant network initiative and create more opportunities to open MAG to the rest of the world.
Last but not least, we have FREE XLM for MAG users!
Any Stellar account is required to hold a minimum XLM reserve (this is how Stellar fights against network flooding). So, the reserve amount required for a basic account with one trustline (e.g. MAG) is 1.5 XLM.
In our effort to provide the least friction to MAG users, we have decided to fund your Stellar account for free. Install the Litemint app, send your Litemint "Receive address" QR Code to our #litemint Discord channel and we will send you 2 XLM to fund the required reserve on your account (*).
Hope you enjoy this update. Get ready for more in 2019!
* This is a limited offer, we reserve the right to suspend or cancel this FREE service at any time. We will send 2 XLM per  Stellar account per Discord @handle to the posted address in #litemint channel.
Recent Posts


Categories