MAG goes Stellar – New Wallet v2.0.0
October 30, 2019
October 30, 2019
New MAG wallet v2.0.0 is out now!
You can download it here – https://github.com/magnetwork/mag/releases
Wallet version v2.0.0 sets all rewards from block #545000 (about 3-weeks from today) to 1 SAT on the old chain. In case you decide to ignore this update – your current wallet will not be able to interact with the MAG anchor and swap with us on Stellar after block 545000.
How to make sure you are using the right wallet? Version v2.0.0 has SWAP WALLET written in the corner.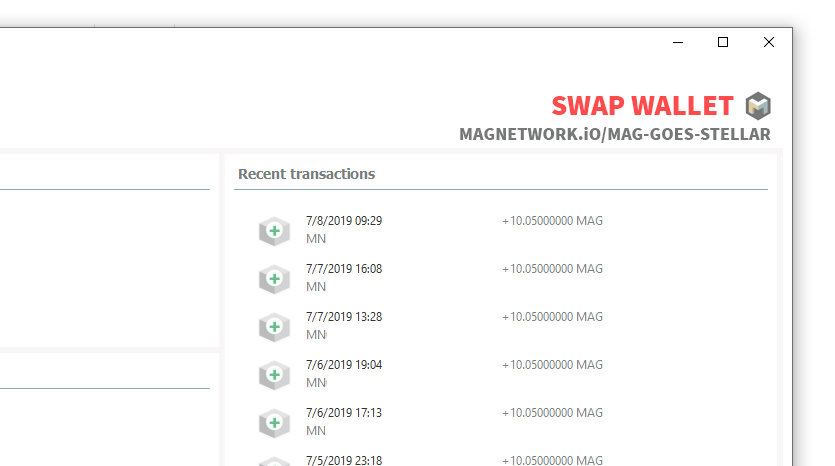 MAG swap to Stellar is going to be easy for users through Litemint during next couple weeks, but what happens after block 545000? Current MAG chain (wallet version v1.0.0) will be going on until there are nodes available to bring in blocks through staking, but there is nothing to do with the earned MAG, because as of today the MAG anchor on Stellar is not compatible with the v1.0.0 chain. Anchor has been updated to v2.0.0 wallet and this means old wallet MAG is not accepted.
In order to swap your MAG after block 545000, you need to download the new v2.0.0 wallet and go through resync process which can take a long time, especially with low internet connection. We will be available on Discord to assist during that time, but we highly recommend you to swap your MAG through Litemint TODAY!
If you want to read more about the swap process then – https://magnetwork.io/mag-goes-stellar/
So be sure to follow us on any of our social channels to stay updated!
Twitter,Discord, Reddit, Telegram
Recent Posts



Categories